Megastar Mark Wahlberg showed some love for Tie and Max Domi last week on Twitter
Matt Cudzinowski @CanadiensMTL / canadiens.com
MONTREAL – It's not every day that a Hollywood mogul like Mark Wahlberg quote tweets one of your posts.
But, that's exactly what happened on January 17 when the 47-year-old actor and producer chimed in on a special family photograph the Canadiens shared featuring Max Domi and his father – former NHLer, Tie Domi – proudly sporting their Habs gear on the Bell Centre ice.
Two guys with the biggest hearts! ❤️💙💪 #family https://t.co/u5eZg3bPCs

— Mark Wahlberg (@markwahlberg) January 17, 2019
This wasn't just a random quote tweet, though.
Mark and Tie have a longstanding friendship, according to Domi, that began in the early 1990s.
"They go way back, back to when my dad played for the Rangers. Mark was still part of [hip-hop group] Marky Mark and the Funky Bunch, so they've been friends forever," explained Domi. "At some point when I was really young, they became really close. They've got similar personalities. They go at it when they get together, just like my dad does with all of his buddies. They go back and forth. I think my dad liked that about Mark and Mark liked that about him, too. They hit it off."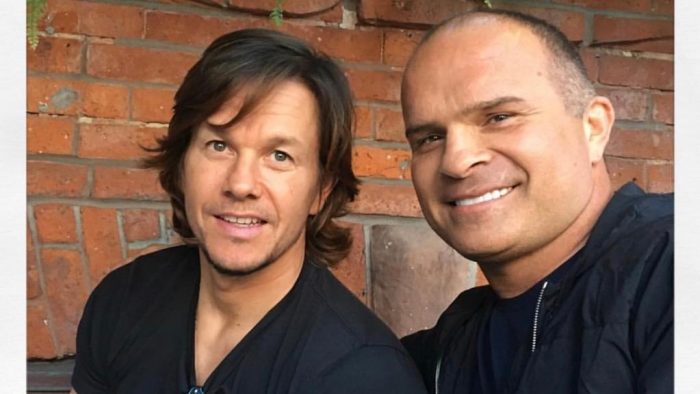 Domi fondly recalls the first time he had the opportunity to spend some extended quality time with the big-screen star.
It was years back at Angus Glen Golf Club in Markham, ON.
"I remember being on the range and Mark just got this brand new Callaway square head driver. I'm a lefty and so is he, and I was slicing my drive. And, he's a really good golfer. He was like – 'Try and hit it with this.' I was like – 'Sweaty hands. Oh boy! The pressure's on now!' But, I absolutely striped one, absolutely crushed it, and I was doing it again and again," remembered Domi. "At one point, Mark said – 'I'll be right back.' He ended up going to the pro shop and buying me the exact same driver. I would have never expected someone to do that. A $400 driver like that to a kid is gold, but he's such a generous person. He saw I was doing well with it, so he just helped me out."
With that memory in mind, the Canadiens' No. 13 has a great deal of respect for the way Wahlberg goes about his business and for everything he has accomplished over the course of his storied career.
"Mark's a great guy. He's so hard-working. He's the hardest working guy in Hollywood and he deserves every bit of credit he gets. I look up to him in a lot, a lot of ways," praised Domi, who has also visited Wahlberg on the set of crime drama Max Payne and science-fiction action flick Transformers: The Last Knight as well. "How he is with his family, what he's been through in his life. Being this successful isn't by accident. He also takes care of everyone around him. He's got a pretty cool team. You see that dynamic, it's unbelievable. He goes to sleep early and he's up at whatever time in the morning. He's a legit robot. He's an absolute machine. It's no mistake he is who he is. He's the best for a reason."
Hey @ArizonaCoyotes look, another new member of the pack! @mark_wahlberg pic.twitter.com/kkXUHRrB3C

— Max Domi (@max_domi) June 11, 2016
Will Wahlberg become a Habs fan?
Wahlberg hails from Boston, so converting him into a supporter of the CH isn't going to be easy. But, Domi plans on giving it his best shot.
"I'll do everything I can. I've promised you guys certain things, including getting my dad in a Habs jersey. I followed through with that. Give me some time. I'll try my best," affirmed the Habs' leading point-getter so far this season. "I'm sure I'll see him in the summertime. We'll see if we can muster something up."
Getting Wahlberg to skate with him at some point, though, or even come out to watch the Canadiens play, would be a good start to the process.
"We've got to get him on the ice one day," said Domi. "Even for him to post a picture with the Habs jersey is stretching it. He's a Boston guy, right? But, I hope I can get him down to a game soon."
Might we suggest March 5 at STAPLES Center in Los Angeles? Or even March 8 at Honda Center in Anaheim?
Friendship matters most
In spite of their busy schedules, the 23-year-old centerman is happy to report that the pair have remained in touch.
"He'll text me on my birthday. I texted him on his birthday," said Domi. "I'm close with all of my dad's buddies. They're all special people in their own unique way."
And, he appreciates the fact that Wahlberg has been a strong supporter of his along the way.
"He's always shown support on social media. He's got a big platform. He helped out with diabetes stuff in the past. You can't even put into words how much that means, how far that goes," concluded Domi. "I owe him a lot for that. He's a special guy."